Powerful
Weak




Labeling

.

Create large high-quality datasets for NLP in minutes. No hand labeling required.
Learn how to get hundreds of annotations in minutes.
No more waiting for manual annotation
Get started with programmatic labeling
Humanloop Programmatic is a new kind of annotation tool that combines advances in weak supervision with data-centric UI to get you annotated data, fast.
>
humanloop
init
myproject
Download Programmatic and install it on your local machine. Spin up a new project in seconds. 🚀
2
Write labeling functions
Easily create sets of approximate functions and smart rules that run through your data quickly adding labels. Wave goodbye to painstaking manual highlighting. 👋
3
Export large clean datasets
Programmatic then intelligently combines the noisy labels produced by your functions into a large clean dataset that you can start training models on immediately. ✨
Better data Better models
A big weakly supervised dataset can be better than a small labelled dataset. Humanloop Programmatic dramatically increases the size of your datasets.
Benefit from both your unlabelled and manually annotated data. The combination of programmatic labels with manual labels leads to a better model.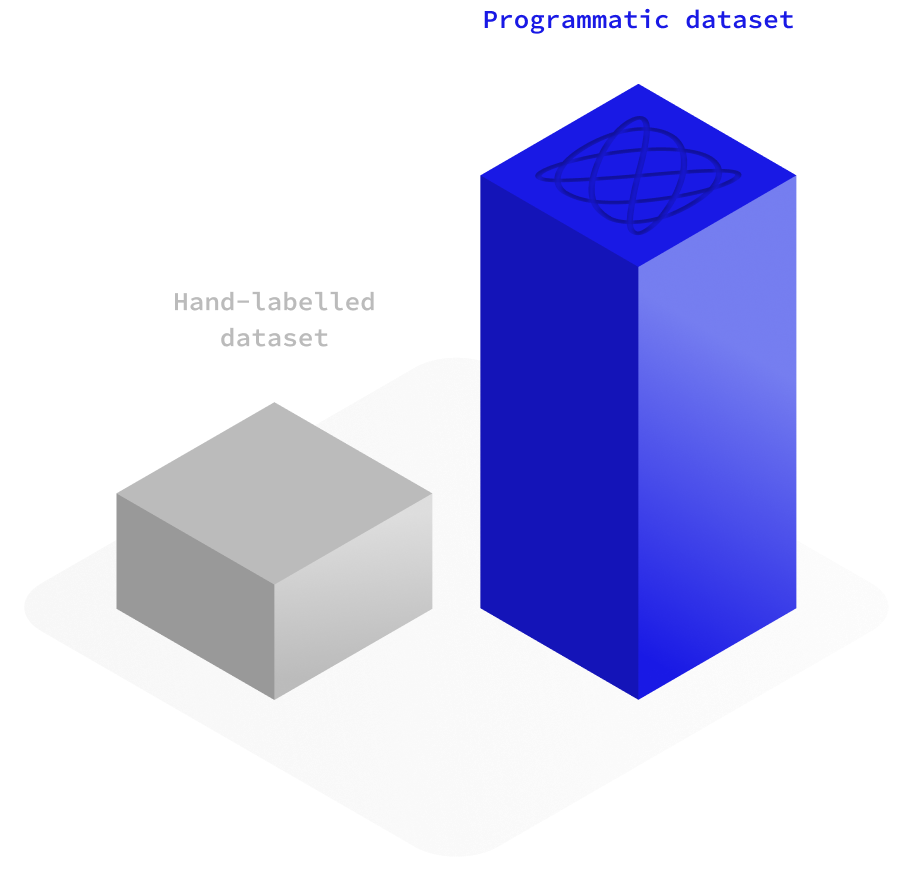 Span Extraction

Rapidly annotate for NER or token classification.

Classification

Rule-based document classification made easy.

Data Explorer

Easily explore large datasets or zoom into specific documents.

Instant Feedback

Immediately see the impact of your ideas across your dataset.

No-code Rule Builders

Apply powerful labeling functions with intuitive UI.

Export

Export your functions and labelled data in popular formats.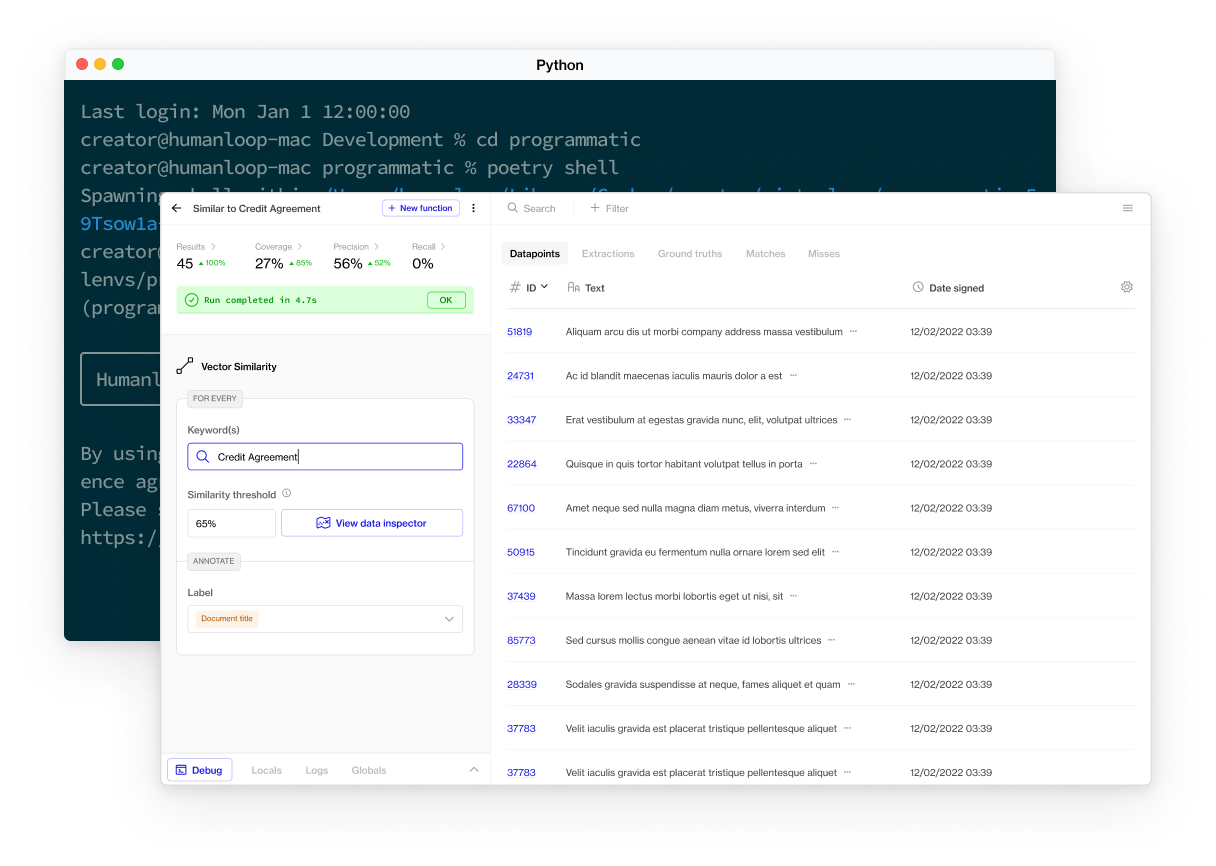 It's your data —

Keep it secret, keep it safe
Get back control of your data. Humanloop Programmatic runs locally on your machine and no private data ever leaves.

Since the data is labelled programmatically, you can even label data that no human ever needs to see.
Working with EHR data is incredibly sensitive so we love that Programmatic doesn't send our data to the cloud.
What others say
Programmatic is phenemonal! I think it's hard to justify NOT using this as a jumping off point for most NLP projects.
Henry Maguire
DS at Orbital Witness
Programmatic does't just make projects easier. It makes projects that were impossible straightforward and easy to understand. Pure 🔥🔥🔥
Jonathan Bourne
PhD Researcher at UCL
Thank you @humanloop for letting me test Programmatic! It's cool to see a glimpse of next generation labeling for NLP.
Paul Simmering
Data Scientist at Q
Human in the loop is the future of machine learning.
Using #programmatic from @humanloop now!
Bram van Es
Researcher at UMCU
I've been using Programmatic for a month and it is the easiest, fastest way to annotate text. It is even appropriate for sensitive text as it runs 100% local.
Craig Pfeifer
ML Engineer, ex-Mitre
Programmatic @humanloop is the way to go for NLP projects.
This is literally how I imagined humans working with AI, actively interacting with data and having instant feedback
Federico Miras
CEO at Pluggy (YC S21)
Have recently been tyre-kicking Programmatic by@humanloop ; an annotation tool that significantly improves cold-start NLP (classification/NER) projects.
Programmatic is the way to go for NLP projects.
Sam Hardy
Deep Learning at Eliiza
been messing around with a programmatic labeling tool by @humanloop
... its the pinnacle of tools when they can educate us to work and be smarter
Had Seddiqi
Director of ML at Ontra
Free

, customisable and extensible by design

As data scientists and engineers ourselves, we know that you need flexibility and control. So we've designed Programmatic to be easily extensible and to play nicely with the your existing workflows and data science tools.

You can export your data in formats compatible with all major NLP libraries, write custom metrics, and have full control over tokenization and pre-processing.
We've also chosen to make Programmatic free so nothing stops individual data scientists from getting the benefit of this powerful tool.
The Humanloop Platform closes the loop on training your NLP models. You can annotate ground truths, improve your models, and instantly deploy custom NLP. We believe it is the next best step for your dataset and we hope this inspires you to use it.
Bigger, cleaner datasets await
Get started now